Gynaecomastia Surgery In Delhi - ANAYSHA Aesthetics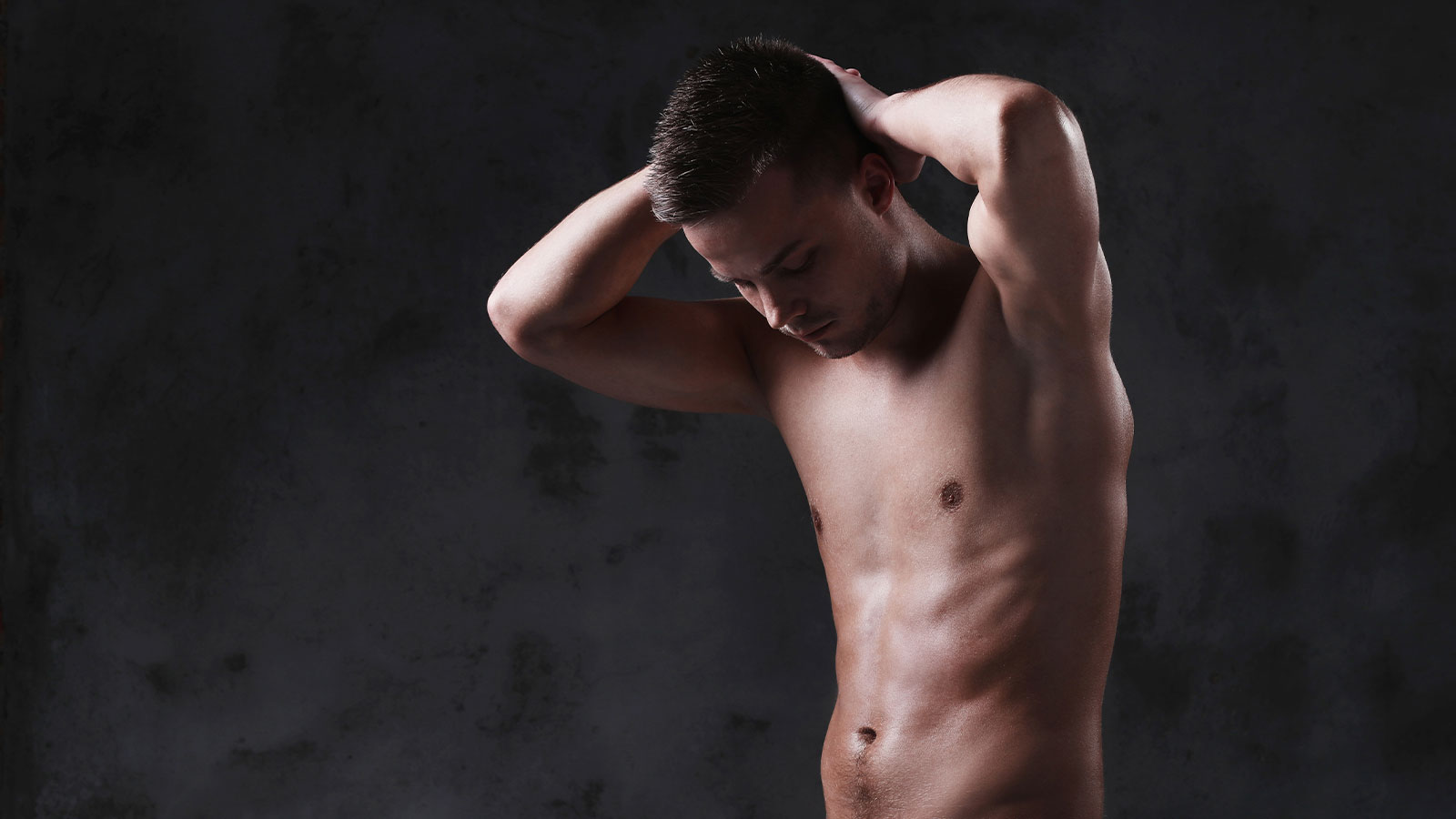 Overview
Gynecomastia is a non-malignant enlargement of the breast tissue. This may occur due to a combination of various factors. Commonly called "man boobs" can be a very concerning issue and negatively impact your self-confidence.
However, with the right treatment and approach, this condition is treatable. It is reassuring to know that gynecomastia need not hamper your lifestyle and stop you from achieving your goals in life. Gynecomastia surgery in Delhi is available with ANAYSHA Aesthetics.
What is Gynaecomastia Surgery?
Gynaecomastia is a condition causing enlargement of the breast tissues in men. The condition is normally caused by medication like anabolic steroids, estrogen derivatives, herbal and growth supplements, alcohol abuse, liver failure, renal failure, obesity, hormonal imbalance.
Gynaecomastia can either happen right after birth, during puberty, or during the late 40s or 50s in men. Since estrogen is a dominant female hormone meant for controlling the female physical traits, the increased levels of the same in men results in the swelling in the breast tissues.
The surgical procedure that helps reduce the enlargement and restore the natural chest shape in men is known as the Gynaecomastia surgery. It flattens the chest and restores the natural chest contours in the body.
The gynaecomastia surgery success rate is quite high in India, making it an extremely common procedure in the country.
Who is eligible for gynecomastia treatment?
If you belong to any one of the following categories, then you may be a candidate for gynecomastia surgery.
If you are over 18 years of age
Your medical assessment reveals that you need surgery to correct the condition.
Following a healthy exercise routine has not helped
Diet modification and lifestyle amendments have not resulted in expected improvements of the condition
There is physical discomfort that restricts normal activities
You have realistic expectations about your post-surgery results
If you are a non-smoker and do not have any kind of addictions
Adults whose breast development has stabilized
If you do not have any other life-threatening illnesses
You do not have any medical conditions that will impair your healing
We conduct a complete evaluation before starting with the best gynecomastia surgery in Delhi.
Who needs gynecomastia surgery?
You need gynecomastia surgery if:
Your current condition is causing you discomfort.
Decline in self-confidence levels, and you have feelings of insecurity.
You have tried less invasive methods, and they haven't worked for you.
There are associated hormonal conditions, and they have been corrected already.
You always take the back seat and hide your body while you are outdoors.
You avoid social parties and mingling because you are conscious.
If the thought of having a relationship troubles you.
You have limited outfit choices.
Sporting a tight T-shirt has been your dream.
You tried a lot of non-surgical methods that failed to impress.
You are looking forward to living a fulfilling life, enjoying the outdoors, and feeling very comfortable in your own body.
You know about the lifestyle changes needed to strengthen and maintain the effects of the procedure.
The amendments needed with your lifestyle can be implemented effectively, such as a healthy fitness level, BMI regulation, etc.
Your work schedule lets you take the required time off.
You have enough support to provide and care for you during the recovery period.

You are welcome with any questions that concern you and go ahead with gynecomastia surgery in Delhi.

How doctors diagnose gynecomastia?

Usually, doctors establish the diagnosis of gynecomastia through

A detailed medical history
Investigations
Examination

Detailed history:

How recent is it?
Is the swollen breast involved with any tenderness?
Is there any discharge from the nipple?
Does the enlargement go away and come back, or is it there always?
Have you lost or gained weight tremendously in the recent past?
Is there a history of any past or present illness?
Is the swelling in one or more breasts?
Are there any changes to the nipple, such as retraction or swelling?
Have the secondary sexual characteristics developed normally?
Is there a history of mumps and other such illnesses during childhood?
Was there any viral infection that you were diagnosed with as an adolescent?
Are you taking medications for any conditions?
Do you have a history of mumps during childhood or adolescence?
Have you ever been diagnosed with a condition of undescended testis?
Is there a family history of gynecomastia?

Physical examination:

A complete physical examination will help to rule out any other conditions that may mimic the diagnosis.

You will be made to lie on your back, and your breasts will be examined.
The doctor will examine for the presence of a disc-like glandular tissue on your chest.
The examination is done to make the diagnosis evident from true gynecomastia, pseudo gynecomastia, true gynecomastia, breast cancer, or any other infections.
Increased fat tissue as compared to the normal glandular tissue may be present. This condition is classified as pseudo gynecomastia.
You will be examined for the presence of any nipple discharge, such as fluid or blood.
Your testicles will be examined for the presence of any mass, distension, normal descent, or remain undescended, etc.
The doctor will examine your breast for any masses. If present, they will need to be examined further. This is done to evaluate if the mass is benign or malignant.
You will be examined for the presence of any lymph nodes, glandular swelling, or any other abnormality in the breast and genital area.
The skin in the area of the breast will be examined for any changes in the skin appearance.
Your nipples will be examined for nipple retraction or any other abnormality.
The neighboring areas such as the neck and axilla are examined for enlargement of lymph nodes. If lymph nodes are present, then further probing is necessary.

A thorough physical examination is necessary before getting started with gynecomastia surgery in Delhi.

Investigations:

If the doctor confirms that it is indeed gynecomastia after a complete examination, then certain investigations may be necessary, such as:

Hepatic function tests
Hormone levels in the blood such as FSH, LH, Prolactin, etc.
If any of the hormone levels come back abnormal, then imaging techniques such as testicular ultrasonography, MRI, etc., may be necessary.
A biopsy may be advised if your doctor detects any signs of malignancy during the physical examination and history-taking process.

Symptoms of Gynecomastia

Swollen breast tissue
Pain
Irritation and discomfort when clothes rub against them
Any lumps in the breast
Changes in skin appearance
Itchy underarm
Sensitivity of the nipples
Any discharge from the nipple may be an indication of other underlying conditions.

Gynecomastia surgery

Surgical correction of gynecomastia is possible through a simple procedure that removes the excess fat tissue. The procedure is done under anesthesia and may require a hospital stay of a few days. You will be prescribed medications that are necessary to relieve pain, prevent infections and help you heal better.

Depending upon your condition, the technique, time taken, and the post-operative instructions will vary. You may need to adopt a healthy lifestyle following the procedure to prevent a recurrence.

The cost of gynecomastia surgery depends upon :

Consultation charges of the plastic surgeon
The cost of investigations that are advised after your doctor takes a complete history and performs an examination
Laboratory investigations including blood tests, microscopic examination, and tissue biopsy
Your health condition- and if you have any other associated abnormalities
Cost of the drugs used in anesthesia
The cost involved with the hospital or the surgical facility
Fees of the surgeon
The cost of the procedure itself, including disposables, other theater expenses
The cost involved for post-surgery garments such as the compression binder
Consumable expenses involved during the procedure
Location of the clinic
The technique used in the procedure
Duration of hospital stay required for the surgery

Surgical reduction of gynecomastia is performed across various cities in India. The cost is variable and differs depending upon the location. ANAYSHA Aesthetics is one of the best places for gynecomastia surgery in Delhi.

| | | |
| --- | --- | --- |
| City | Average cost in INR | Price range |
| Delhi | 61500 | Rs 33,000 to Rs1,30,000 |
| Mumbai | 51500 | Rs 42,000 to Rs 1,10,000 |
| Kolkata | 58000 | Rs 38,000 to Rs 1,00,000 |
| Hyderabad | 47000 | Rs 34,000 to Rs 1,28,000 |
| Chennai | 56000 | Rs 35,000 to Rs 1,20,000 |
| Bangalore | 54000 | Rs 42,000 to Rs 72,000 |
| Pune | 49000 | Rs 39,000 to Rs 85,000 |

Types of Gynaecomastia Surgery

If the enlargement of the breasts becomes bothersome for the patient, the surgeon generally advises undergoing a surgical procedure .There are many kind of gynaecomastia surgery in Delhi, depending upon the grade of gyanecomastia like only gland removal, Liposuction and gland removal, Vaser liposuction, Skin lift with liposuction and gland removal

Liposuction - this is a non-conventional form of surgery that removes the excess breast fat in men with enlarged breasts. This procedure doesn't remove the breast tissues but only extracts the fat.

gland removal- this is a surgical procedure that involves the removal of the breast gland tissue in men. It involves small incisions that are done on the lower border of areola. It removes the glandular breast tissues with precision.

Procedure of Gynaecomastia Surgery

Depending on the type of surgery you choose, the surgical procedure requires someone professional to get the surgery done. It generally involves following steps.

Anesthesia - since this is a surgical procedure involving needles and scalpels, numbing the area of surgery is important. Thus, the first step to the surgery is anesthesia. It could either involve local anesthesia, intravenous sedation or general anesthesia, depending on what the surgeon deems best for you after assessing your grade of gyanecomastia.

Infiltration - in this fluid containing anaesthetic agent is infiltrated using cannula.

Liposuction - if the patient chooses liposuction, a cannula is inserted under the chest skin via a small incision. The cannula moves in to and fro motion to loosen the accumulated fats around the region, which is then extracted out of the breast tissues via a vacuum.

Gland Excision - It involves complete removal of the glandular breast tissues along with the excess skin wherever required to restore a uniform shape and size of the chest. The incision patterns depend on the kind of restoration that the man wants to undergo.

Recovery After Gynaecomastia Surgery

The recovery process after the Gynaecomastia Surgery in Delhi takes time. The swelling and pain often persist for the first three days, accompanied by a numbness around the area of the surgery.

Generally, the overall recovery takes up to 2 weeks, depending on the aftercare. Make sure that you avoid engaging in strenuous activities or heavy-lifting until complete recovery. Pressure garments need to be worn for 3-4 weeks

Moreover, take care of your incision and follow the steps that the doctor has advised. Eating a healthy diet significantly helps in the recovery process. Include more fruits and vegetables that can speed up the healing process, and help you feel better in no time at all.

Risk Factors in Gynaecomastia Surgery

The risks and the potential complications involved in the Gynaecomastia Surgery are minimal and can be treated with medications and proper after-care. Some of the complications include:

Anesthesia risks
Hematoma
Mild irregularities in breast contour and shape
Numbing sensation around the nipples and breast
Deep vein thrombosis
Seroma
Blood clots
Permanent Scarring
Mild infection at the incision
Inflammation and Pain

What makes ANAYSHA Aestheticsthe best choice for gynecomastia surgery?

Gynecomastia surgery is one such procedure that greatly enhances your torso's look and helps you regain your lost confidence. When you are making such an important decision, you must choose the right place to get the surgery.

La belle is your best choice for gynecomastia surgery in Delhi because:

Our surgeons are known for the great sculpted results they create
We offer personalized attention to all our patients that sets us apart
Each of us is radically different and so are our bodies- we analyze each patient comprehensively and then proceed with the right treatment suited to your body type.
All of our experts meet the highest standards for education and experience
Our founder has had a firsthand experience of cosmetic transformation understands very well the needs and psyche of someone who is looking forward to the same
We educate all our patients about what to expect from day one to stay informed and reassured.
You will be enlightened about the treatment choices that will help you make an informed decision.
Our center is a very open, friendly, and confidential environment where whatever you discuss remains with us.
We are constantly improving the standards of our procedures by running quality check processes that translate into the best care for you.
We always ensure that our support team is well qualified and specially trained to be on the same page with us so that we can offer our best services together.
All our costs are right and transparent, and you are more than welcome to raise your concerns.
We offer payment choices to ensure that finances are not a hindrance to making you feel your best.