Everything You Need To Know About a Mommy Makeover
---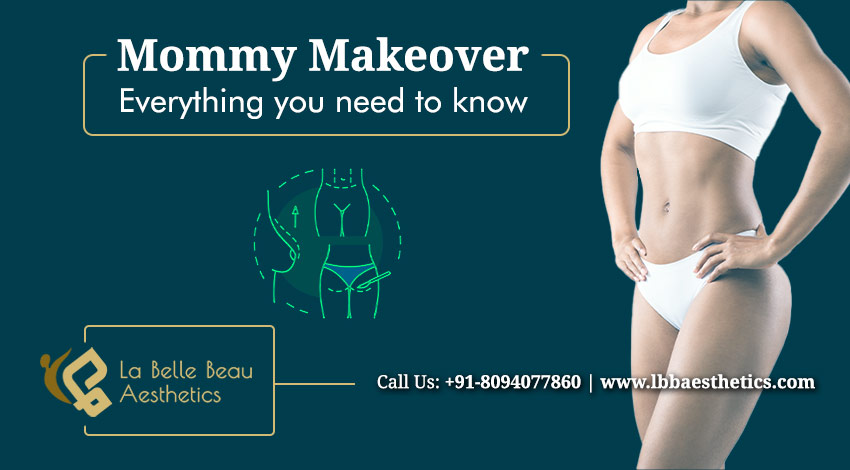 Category: Mommy Makeover
Motherhood is a soul-touching and cherishable period in a woman's life. Living with a life within you and then welcoming your baby to the new world is a moment of true happiness.
Also, having a baby changes a woman from the inside as well as outside. Physical well-being disrupts from what it was before childbirth and these elements do not go back to the way they were before. Reviving your body shape through a mommy makeover surgery is a much-recommended procedure to get the body back in its normal shape.
Table of Contents
Feel free to skip ahead if one topic catches your eye:
1.What is a Mommy makeover?
A mommy makeover surgery is a set of body enhancement procedures. It is meant to enhance the physical appearance of the woman's body who has been through the stages of pregnancy and breastfeeding.
Each set of procedures in a mommy makeover surgery caters to the specific requirement of the body. Generally, it targets the effects of childbearing, ageing of the breasts, face muscles, and the overall body appearance.
An ideal mommy makeover surgery includes cosmetic surgery, non-surgical treatments and sometimes a combination of both these procedures. A mommy makeover surgery involves an amalgamation of various procedures which when performed with perfection provides the pre-pregnancy physical appearance.
2.Procedure Under Mommy Makeover
The breasts and Abdomen are predominantly the primary areas related to motherhood, hence, these areas are focused at par when performing the various procedures under a mommy makeover surgery.
Breast Augmentation: A breast augmentation sometimes referred to as a boob job, is a procedure that relates to increasing the size of the breasts. After pregnancy, breastfeeding makes the breasts saggy and hence, fat from other parts of the body is transferred to the breasts to achieve round or the natural size.
Breast Lift: Mastopexy or breast lift is a procedure to remove the excess skin around the breasts and tighten the surrounding muscles to support and lift the breast contour.
Tummy Tuck: A tummy tuck procedure or abdominoplasty removes the extra skin of the abdomen region. Post-pregnancy, the abdomen muscles become saggy and this process of a mommy makeover surgery involves the smoothing and the flattening of the abdomen, reducing the sagging.
Liposuction: Liposuction is the procedure to remove excess fat accumulated underneath different areas of the body. The process mainly aims to reshape particular regions of the body.
Buttock Augmentation: The process of buttock augmentation enhances the gluteal muscles which in turn helps the buttock to get a perfect shape.
Genital rejuvenation: In the mommy makeover surgery, genital rejuvenation mostly includes the vaginal rejuvenation process. It relates to the issues of vaginal tightness wherein non-surgical treatments are performed.
3.What Makes You The Right Candidate For Mommy Makeover?
Whenever you feel like undergoing a mommy makeover surgery, it is advisable to consult a plastic surgeon. A professional opinion about your physical well-being must come across before the surgery.
Generally, if you possess the below-mentioned attributes, you are suitable for the surgery
Overall good health
BMI is optimum
Not a regular smoker and drinker
No plans to become pregnant before the surgery
Also, planning for a mommy makeover surgery involves certain informal personal conditions to which you must adhere to.
Injections and other injectables are not recommended while you are breastfeeding
Wait for several months for your breast surgery as it will allow your breast to generate its natural shape. The surgery should be performed only after you are 100% recovered from childbirth.
If you ace in these conditions, you are ready to hunt for the perfect mommy makeover surgeon
4.How To Prepare Yourself For a Mommy Makeover
Before going for the surgery, it is important to be mentally and emotionally ready. Make sure that you are overall ready and are not going for it with any hesitation. You also need to:
Get a medical evaluation of your body
Restrict yourself from smoking and drinking alcohol
Avoid the usage of herbal supplements as well as aspirin
If you are on certain medications, consult your surgeon and get them adjusted
After your surgery, prepare yourself for some follow-up procedures too. The decision for the follow-up will be totally based on your health at the time after the surgery.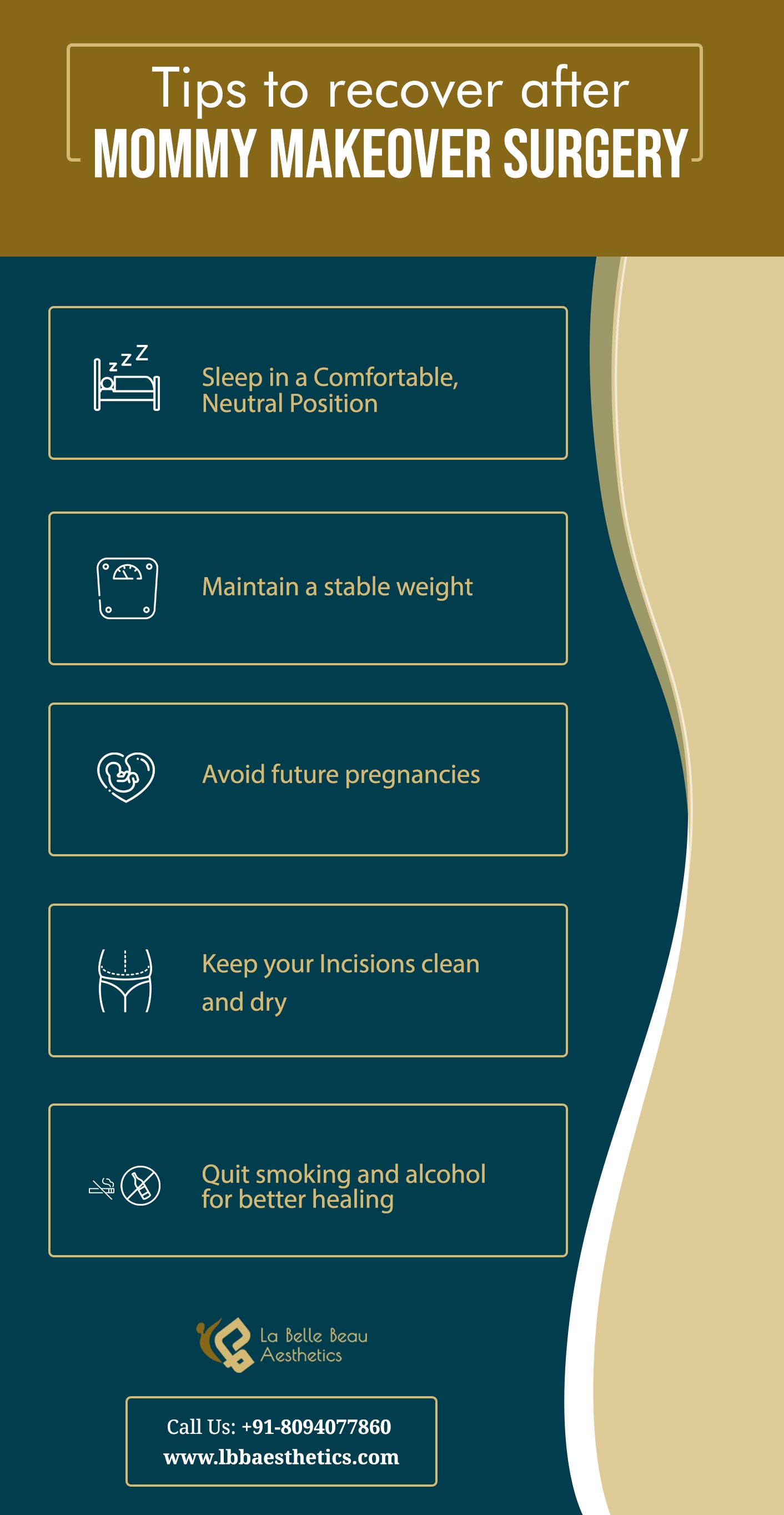 5.What Should One Expect After The Surgery?
After a successful mommy makeover surgery, the recovery period differs from patient to patient. If you choose to undergo the surgery when your child is young, the tasks which require physical exertion related to your child's needs will have to be fulfilled by someone else. Lifting heavy weights, sexual intercourse, exercises, etc. are to be avoided for at least 3-5 weeks.
Generally, it takes around 5-7 days to recover and get back to your normal routine. In some cases, it may take less time or vice versa. This largely depends on how your body, medications and mental well-being responds to the surgery.
Check for some useful mommy makeover tips which can help you recover with ease. Also, it is advisable to have conversations with fellow patients to understand and compare your recovery stage.
A well-performed surgery by an expert surgeon brings back your confidence. Feeling the body you had before pregnancy makes you feel good, from the inside and from the outside.
6.Cost of a Mommy Makeover Surgery in Delhi NCR
As all your worries around what is mommy makeover, how to get tummy tuck, etc. you might end with one last query: mommy makeover surgery cost
On average, the surgery costs INR 2,50,000 to 3,00,000 in Delhi NCR. The costing depends on the procedures you choose to undergo, reputation of the surgeon and the package to choose at the hospital. Hospitals have various packages which can go from general to premium.
Compared to the surgery costs in western countries, prices are much cheaper in India.
Take Away
For you to regain the perfect body you had pre-pregnancy, it is advisable to go for a mommy makeover surgery. We at ANAYSHA Aesthetics , deliver you the results that are best-matched and suitable for you. With our team of expert doctors and surgeons, a new-mother will get her enticing and perfect body back. Also, at ANAYSHA Aesthetics , you get customised packages that suit your budget.