Gynecomastia (Enlarged breasts in Men): Things to Consider Before Opting Gynaecomastia Surgery
---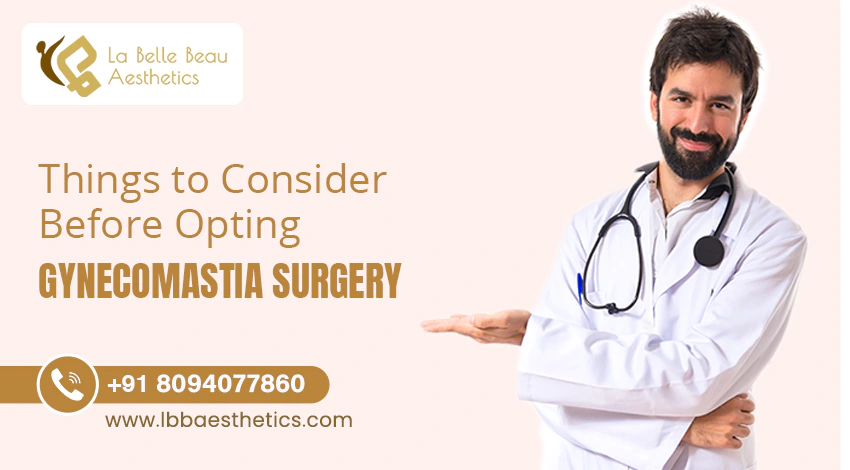 Category: Gynaecomastia
Gynecomastia is a common condition that affects males of all ages and causes excessive breast growth. This increase in breast volume is induced by a variety of factors, the most common of which are hormonal abnormalities.
This condition is extremely traumatic and embarrassing for men, and it interferes with their social lives.
With medical advancements, treating gynecomastia has become easier. Male breast reduction surgery is one such technique that can help restore the masculine contour of the breast. It enables men to live confidently by reducing breast size and addressing gynecomastia.
Table of Contents
Feel free to skip ahead if one topic catches your eye:
1. Do I have gynecomastia or fat?
The phrase "man boob" is used when men have enlarged breasts similar to those seen in women. Medically, this condition is known as Gynecomastia. Breasts are made up of two major tissues; glandular and fatty. The enhancement in the breast can be due to an increase in glandular tissue or fatty tissue or both of them together. So, what are the major causes of gynecomastia?
Hormonal imbalances between oestrogen (the hormone responsible for breast enhancement) and testosterone.
Poor lifestyle factors like obesity and sedentary lifestyle
Side effects of certain medications
Gynecomastia is generally classified into three categories based on the extra breast tissue and skin present.
Grade 1: mild enlargement with no additional skin.
Grade 2a: Hypertrophy is moderate with little extra skin.
Grade 2b: moderate hypertrophy with extra skin
Grade 3 Excessive hypertrophy along with excess skin and sagging breasts.
Gynecomastia is frequently misdiagnosed because people confuse it with fat accumulation. Being overweight can cause fat accumulation around the breast region, which can contribute to breast enlargement. This is referred to as pseudo gynecomastia. However, this is not the same as gynecomastia.
How to differentiate between fat and gynecomastia?
These are some common signs that might indicate gynecomastia:
Persistent fat around the breast region.
Pointed nipples
Dark and enhanced areola
Overall, a slim body but enhanced breasts
Breasts appear rounder.
To get an accurate diagnosis, the doctor does blood tests and looks for hormonal abnormalities. This provides a clearer image and aids in determining the underlying cause of gynecomastia.
If you have gynecomastia or pseudo gynecomastia, male breast reduction surgery, commonly known as gynecomastia surgery, is a viable and safe option. Gynecomastia may cause a lot of embarrassment and humiliation in social circumstances. Undergoing the procedure can significantly boost your confidence and help you to feel more at ease in your body.
2. How to Prepare for Gynecomastia Surgery?
There are certain considerations before Gynecomastia surgery in delhi that you need to keep in mind to ensure a seamless surgery with less complication:
Follow a healthy lifestyle and eat a well-balanced diet.
Keep yourself properly hydrated.
Stop smoking at least 4 weeks before the surgery.
Alcohol use might cause serious problems during surgery and also impede your recovery following gynecomastia surgery. You must refrain from drinking alcohol at least a month before the surgery.
Discuss the concerns in-depth with your doctor. This includes a history of high blood pressure, diabetes, or any other diseases.
Stop taking any medications that may cause problems during surgery, such as blood thinners, aspirin, and herbal supplements.
By following the plastic surgeon's advice and taking all the considerations before gynecomastia surgery, you can have a safe and complication-free procedure and get the desired look.
3.Gynecomastia Surgery Procedure
Male breast reduction surgery is a generally safe treatment that is carried out in the phases outlined below:
Anaesthesia: Before commencing the operation, the doctor will provide anaesthesia to ensure that you do not experience any discomfort.
Procedures used: There are two main techniques for removing extra fatty tissue and skin from the breast area.

Liposuction: During liposuction surgery, a narrow tube is introduced via an incision in the breast and excess fatty tissue is removed or sucked out.It also includes contouring to give it a masculine contour.
Tissue excision technique: Excision is performed to remove the glandular tissue with or without extra skin excision. This procedure is ideal for men who have overly large and sagging breasts.
In most situations, liposuction and tissue excision methods are performed in conjunction to provide the best outcomes. Male breast reduction surgery in Delhi is a very advanced technique that results in a very satisfactory outcome for patients.
The cost of male gynecomastia surgery varies depending on several factors, including:
The number of tests performed before surgery
The location of the clinic, as well as the infrastructure and equipment available
The plastic surgeon's expertise and experience
The surgical technique chosen during the surgery.
All these variables can influence the overall cost of male breast reduction surgery.
4. Are there any risks involved?
Although gynecomastia surgery is a safe procedure, there are certain risk factors associated with it, like:
The formation of blood clots
Slight irregularity between both breasts
Changes in the breast contour
Persistent pain along with discomfort
Scarring after the surgery
Infections in the wound after surgery
Fluid accumulation in the breast area, also known as a seroma.
In rare conditions, there might be a loss of sensation around the nipple due to nerve damage.
These gynecomastia surgery side effects can be minimised by taking precautions and consulting an experienced plastic surgeon.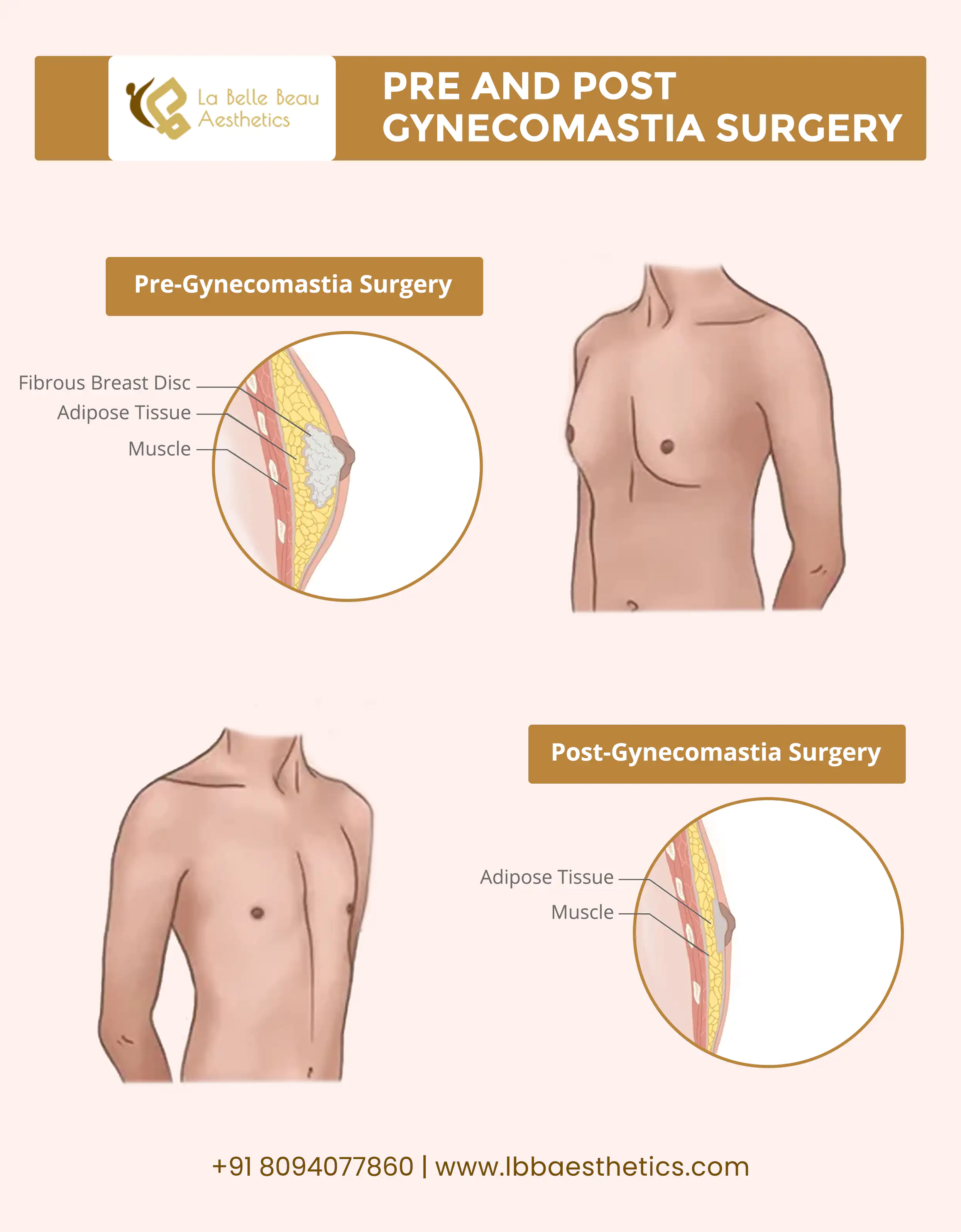 5. Recovery and Precautions After Gynecomastia Surgery
After your surgery, you have to take certain extra precautions to let the breast area heal completely. What can you expect right after the surgery?
There might be some bruising and swelling around the breast area.
Pain and discomfort
Numbness around the breast area.
These complications are very minor and common after surgery and will go away on their own.
Healing: The male gynecomastia surgery will take around 4 to 6 weeks to completely heal. You must follow certain post-surgery precautions, like:
Taking a complete rest.
Maintain proper hygiene
Wearing a compression garment. This would greatly help in maintaining the new breast shape after the surgery.
Do not undergo any strenuous workouts right after the surgery.
Maintain a decent amount of physical activity like low-impact walking
Go for regular follow up with your surgeon.
After the surgery, you must be patient and allow adequate time for the body to rest and recover. After 4 to 6 weeks, the scars will heal and you will be able to resume your usual life.
Takeaway :-
Choosing the best Plastic & Cosmetic Surgery Clinic in Delhi is critical to ensure a successful surgery.ANAYSHA Aesthetics is renowned as the premier facility in Delhi for male breast reduction surgery, with a staff of highly skilled professionals and state-of-the-art equipment.
At ANAYSHA Aesthetics, you will receive the best treatment and suggestions, as well as the body of your dreams.