Cosmetic surgery Impact during COVID 19 pandemic: Is it safe?
---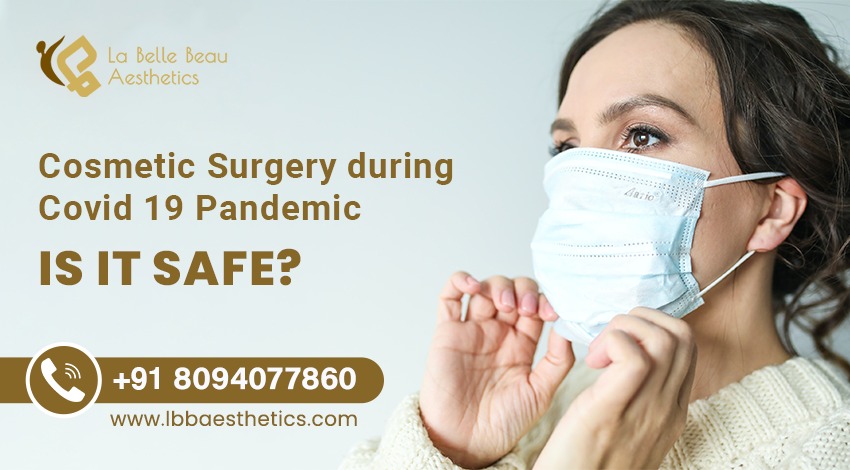 Category: Surgery
The COVID 19 pandemic has left most of us working from home and work is now more over zoom calls and other video conferencing tools. We are often looking into each other's faces more than before as that has become the only source of interaction. Concerns about how we look to ourselves and to others causes anxiety and those looking to improve their looks have started looking out for cosmetic enhancement procedures, causing a "zoom- boom" in cosmetic surgery.
Table of Contents
Feel free to skip ahead if one topic catches your eye:
1. Why are Cosmetic Surgeries in demand?
Self esteem and confidence for most of us comes from looking and feeling good. More so with the COVID, being stuck, a huge number of people have started working digitally. Most of us have had the opportunity to turn to looking better and feeling better about ourselves.
Corona's impact on cosmetic surgery is omnipresent and just as ever before, we have started to notice how important looking good is. A good number of people have explored ways to get help in order to look how they want to. This has prompted interested people to go under the knife if there is need to.
Another reason for the increase despite the corona impact is the comfortable downtime that people can take after a cosmetic surgery. Many major procedures require patients to take time off and stay home before getting back to work. There are a bunch of people wondering Is cosmetic surgery still open during the pandemic?
With the pandemic, staying home has become the norm and this has made it easier to take the downtime needed without taking time off from work. This has left people thinking" can i get cosmetic surgery during covid 19"?
Wearing a mask has become part of our wardrobe, so a lot of people find it easier to sneak in the time and space for cosmetic surgery amidst the corona impact while we get over the pandemic. This has left a lot of people exploring the safety of surgery during covid 19 and also delving into can i travel for cosmetic surgery during lockdown, despite the corona impact.
As much as the growing number of people opting for procedures, some of the potential clients are still at home considering. "Is cosmetic surgery safe"?
2. Cosmetic Surgery and COVID-19 Pandemic
Many cosmetic surgeons expected the pandemic to slow down the business due to the corona impact.
No major events are happening and no travel plans as expected, the money that would have been shelled out for such extravaganzas is there to spend.
Many potential clients who would think twice otherwise, are now willing to go the extra mile with their wallet to look good.
The pandemic has caused a lot of otherwise dormant people to be active on social media, as this is the only interaction with the outside world.
With the corona impact, different angles of pictures are posted on social media.
Dermatologists say about 56% of people are considering cosmetic surgery during the pandemic, and 81% of people do not like the way they look on camera.
More and more people are gearing up with a positive attitude towards cosmetic surgery.
According to the CSBN, about 3.5 lakh people opted for eyelid and nose reshaping procedures (rhinoplasty).
This goes to show that more and more people are concerned about how they look and wanting to change that.
However, there are people who are still apprehensive and wondering " Is cosmetic surgery safe" and still not deciding about scheduling their appointments during this time. This is due to the fear that they might contract the COVID pandemic when they go in for a procedure. If you ask, "Is cosmetic surgery safe"? , it actually depends on the clinic you choose to get the procedure.
3.Impact of COVID-19 on Cosmetic Surgery
The pandemic did cause an initial dip in the number of cosmetic surgeries due to the lockdown. But now, the trend has started to pick up. With more and more people working from home, the concern about how they look is on the rise.
The cosmetic surgery market is forever driven by the demand for minimally invasive and non-invasive surgeries. These surgeries cause less damage and open scars compared to open surgeries, and people are more likely to opt for them.
People considering cosmetic surgery during lockdown are looking at procedures that cause minimal discomfort, shorter hospital stays, and long-term success rate . This encourages options such as microdermabrasion and soft tissue fillers to lead the pack.
Dermatologists and plastic surgeons have been pleasantly surprised by the boom that the pandemic has created and the increase in cosmetic surgery during lockdown. While they were planning to take time off and pay out, the boom that came up left them very busy and patients waiting to get an appointment.
Lip fillers and brow lifts along with non surgical face lifts were the most popular procedures while people were gearing up to get the look of their dreams.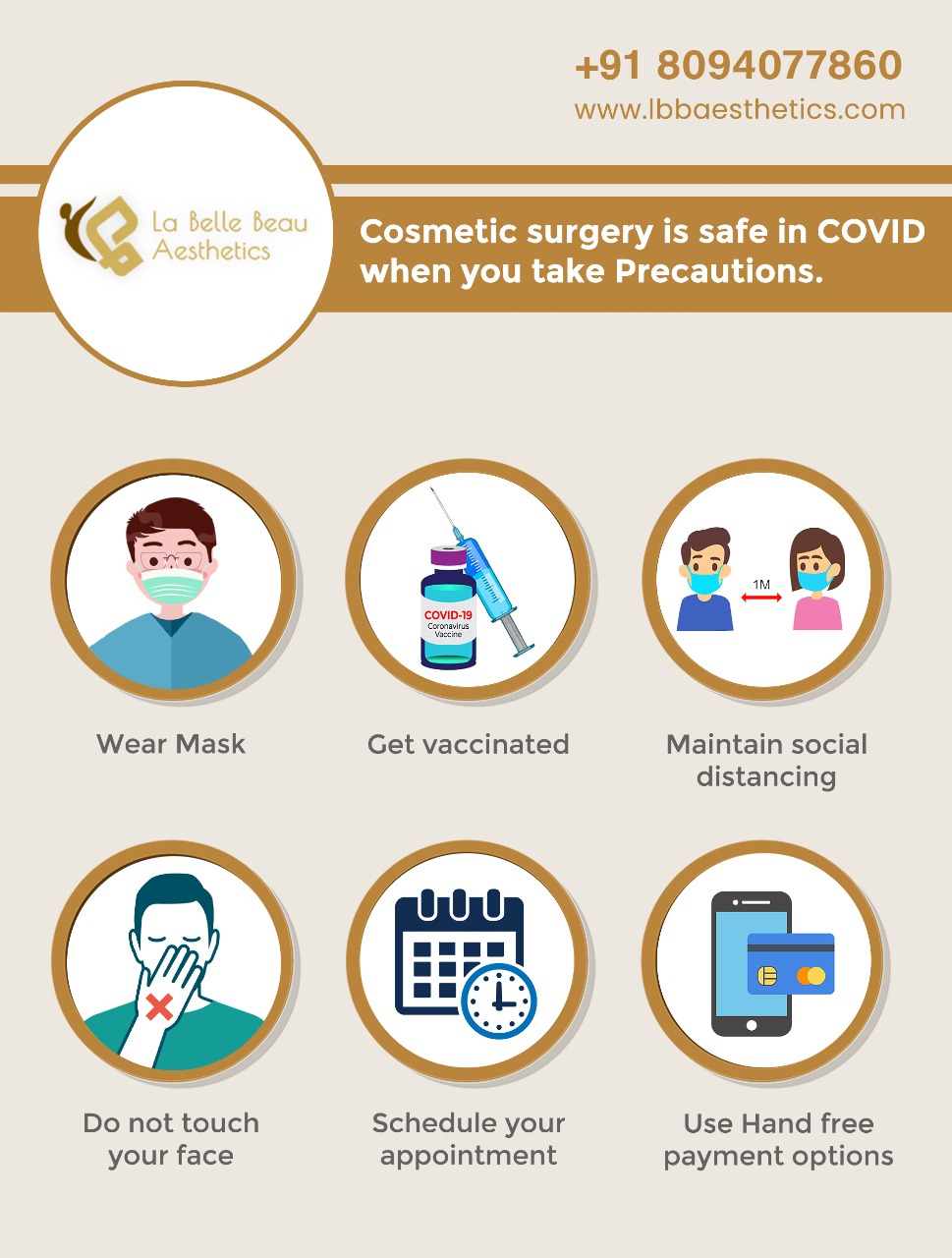 4. Steps taken by Clinics to stop COVID-19 spread
Hospitals and clinics take the following necessary actions during COVID 19 according to governmental guidelines in order to keep the workforce as well as their patients safe during this critical time. Cosmetic surgery during lockdown is still a choice. Especially for the patients on edge and still puzzled about "Is cosmetic surgery safe?", read on.
Clinics always encourage telemedicine and online consultation and only if necessary, call you in for an appointment
The staff always use a facemask
Members are made well aware of the ways for infection control
All patients will be questioned about the following:
Any history of international travel within the last 14 days
Signs or symptoms of a respiratory infection, such as a fever, cough, and sore throat.
Enquire if you had contact with someone with COVID19
No visitor will be allowed to accompany the patient unless absolutely necessary
Any visitor who shows other signs of illness will be asked to kindly leave.
Visitors should take care of hand hygiene and should use facemasks SOS.
Distancing, hand hygiene & Personal Protective measures should be followed inside clinics
All the visitors are invited to use hand sanitisers available throughout the clinics and at the entrances and create a safe environment for both patients and their staff.
Make sure that all their staff are vaccinated and fit to work during this time.
Temperature testing of all patients and visitors is done, all the surgical patients are tested for COVID 19 on arrival, and all the staff are tested weekly to ensure that they have not contracted a recent infection.
5. How to choose the best clinic for yourself during COVID?
Before you go in for an appointment, call the clinic or check the website to find out if COVID guidelines are being followed. With cosmetic surgery during lockdown being offered at many places, do your research, read up reviews to see how safe these clinics are and what other patients have felt about the precautions that are taken at these places.
Do not hesitate to enquire and check about:
Requirements regarding mask by staff and visitors
The cleaning protocols followed and sanitizing measures undertaken for rooms, waiting areas, restrooms, and other frequently touched surfaces
Social distancing practices adopted at check-in, waiting areas and exam rooms
Whether there are limits on the number of people who visit at one time
Screening and temperature checks for staff and visitors
How doctors and other staff are using personal protective equipment (PPE)
Video appointment options available
Clarify the cost involved in the procedure and make sure you get a quote that is all inclusive.
Discuss with your care provider if the procedure will qualify as reconstructive and be covered under your medical insurance.
The cost may range anywhere from Rs 2500 for a chemical peel and upto a few lakhs depending upon the procedure and extent of work required.
6. COVID guidelines while visiting a clinic
Before visiting a clinic, explore the choices you may have for telemedicine
Practice hand hygiene and maintain social distancing
Avoid touching high risk surfaces such as rails, door knobs, table surfaces
Wash your hands frequently, and use a sanitizer whenever necessary
Schedule your appointment for the first slot when the facility is the cleanest
Update all your information to the clinic beforehand which will minimize time of exposure
Avoid touching your face, including your eyes, nose and mouth.
Cover your cough or sneeze with a tissue or your elbow, and throw away the tissue. When wearing a mask, cough or sneeze into the mask.
Use hands free payment options such as from your mobile, netbanking etc
Takeaway :-
At ANAYSHA Aesthetics , you'll get the best suggestion and treatment, and get the body of your dreams.